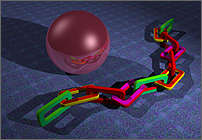 •

01.

Ball and Chain

, 2001

RONALD DAVIS taught himself the discipline of perspective from books. Now internationally collected, he began his career in 1963, nearly single-handedly reintroducing perspective into abstract painting. Experimenting with many mediums and materials, he created his well-known and acclaimed series of colorful abstract geometric works, many of which hang in the great museums of the world.

With the advent of the Apple ][ computer in 1982, Ron began experimenting with early 3-D drawing programs, utilizing them as his primary sketching and drawing tool. He was one of the very first to create 3-D digital artworks, guaranteeing his place as an innovator in the new field of computer-aided art. In 1987 he began using 3-D modeling and rendering programs for the Mac, creating hundreds of digital color drawings over a ten-year period. The print technology to support long-lasting, true archival-quality color prints did not exist then.

Now it does exist, and Davis is bringing it to you in this stunning series of prints.

SO now, for the first time, Ron's digital portfolio is being published as high-resolution, limited edition Roland giclée color paintings, on state-of-the-art 150-year archival papers, using pigmented archival inks. You can view them here on the Internet. View the entire remarkable series on abstract-art.com's website. You can even download these low-resolution .jpeg's and print them out on your desktop printer; put them on the 'fridge. These digital paintings are the real thing, not reproductions of other paintings. You can purchase signed archival non-virtual original versions of these digital paintings at a reasonable price and hang them in your art collection for your lifetime (or longer).